Walking down the hall in the Fine Arts Building at Navarro College you think you hear jazz musician, Dave Brubeck, on the piano playing his signature tune "Take Five." When you reach the choral rehearsal room you hear voices singing the lyrics and you know the Collegiate Singers have gathered once again to make music together.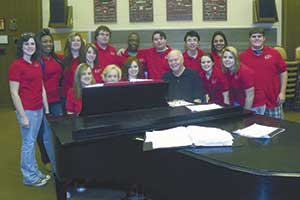 The Collegiate Singers are a close-knit musical unit of 15 singers plus their accompanist, Sheila Herod, and their director, Rodney Haedge. One singer introduced the group, saying, "We're family," and all of the others nodded in agreement. She went on to describe their special bond saying, "Most of us sing in the 50-member Chorale and a few [of us] sing with the college Chamber Singers so we spend a lot of time together." Some of the singers also
meet one another playing in the college band.
"Membership in the Collegiate Singers is offered by invitation only," Rodney said. Students must audition and, if chosen, they can receive a scholarship. This means they must maintain a prescribed grade point average and faithfully attend class and rehearsals. "I wouldn't be in college if I didn't have this scholarship, so this group means a lot to me," one student said. "It is great that the college makes scholarship money available for singers in this special group," Rodney said. "Dr. Sanchez is very supportive of this group."
The singers work hard to achieve the sound they want. "We even rehearse our music on our own time," one student explained. "We really know the music, so we can help other singers in the other choral groups. It's an honor to be in the group, so we feel responsibility to set an example." Some of the singers have also auditioned and been chosen for the Junior College State Choir, the All State Choir and the All State Band. Rodney said, "It is remarkable how organized and dedicated they are to be active in clubs, have jobs and keep up their grades."
Another feature of membership in this special group is that they travel. They perform at community events, privative parties and banquets, and they sing in churches. "They have a repertoire that includes sacred music," Rodney added. At the Navarro College Jazz Concert, the Collegiate Singers demonstrated a repertoire which also includes jazz, pop and even Doo-wop. They sang a program that included solos, a quartet and they sang as an ensemble. The group had just returned from a performance at the Music Educators Convention in San Antonio. They earned money for the trip by working as valet parking attendants.
One student recalled that fundraising event saying, "We wore our uniform shirts, but you couldn't see them; we were so bundled up in the cold." Many of these talented students come from Navarro County and the others from cities such as Seattle, Washington, and Billings, Montana. One student is from Malaysia. Some of them will continue their studies in performance music, music education or band, but the group includes an aspiring dentist, a physicist, a doctor, an actor, nurses and teachers. Because their present focus is music, they take every opportunity to learn and perform. Many of the singers are enrolled in private lessons with Rodney, with other professors on campus and with teachers from other schools. Rodney likes helping singers prepare for the auditions they must do to enter an upper division music program at a four-year university. "It is the extra time they spend that creates the sound," Rodney said.
Rodney learned with his own children the value of that "extra time" that parents and teachers need to spend to ensure the success of the young people in their care. His daughter, Christina, is now a nurse who does some teaching, and his son, Jason, is a businessman who coaches his own children to give them that "extra time." Rodney is a graduate of Southern Methodist University. He was a choir director at Corsicana High School for 14 years before he moved to the coast. When he retired five years ago, Rodney and his wife, Sheren, returned to Corsicana. He planned to work only part time as the choir director at the First Methodist Church, but his commitment to music at Navarro College clearly demands full-time effort. Along with the classes and private lessons, there are three major performance events at the college to keep him busy. His schedule includes a jazz concert in the fall, the spring musical and a Christmas concert.
"President Sanchez has his reception the same night as our Christmas concert," Rodney said, "but he always attends the concert to show support for the music department. "My accompanist and friend, Sheila Herod, is retiring," Rodney said regretfully. "She is the director of piano studies and music theory here, and she is so valuable to me and to the choral groups." Maybe Sheila will return to visit the group — as do the former members of the Collegiate Singers, who sometimes appear at rehearsals just to enjoy the sound of many voices joined as one.
Written by Joan Kilbourne