If you visit Wallace and Lisa Swayze and their son, Trae, you will likely be impressed with their kind, quiet friendliness. Any of the three will welcome you into their rambling stone home in Cedar Hill. The high-ceilinged living area has tile floors that look like flagstones and the two-story-high stone wall above an open fireplace is regal, yet inviting. The feeling created is that of a strong castle, softened and warmed by polished wood trim and cabinets.
The sturdy eight-year-old home is furnished simply with a natural, relaxed, uncluttered feel, perfectly fitting the family living there. Wallace is the picture of stability and rather prefers to stay out of the spotlight. He works as a software development manager for Hewlett-Packard. Lisa, currently the prayer minister at Trinity Church of Cedar Hill, is a bit more extroverted. Gracious beyond most typical 20-year-olds, Trae studies broadcast communication at Southwestern Assemblies of God University (SAGU). Dolly, a Labrador-Blue Heeler mix, roams the house, looking to Lisa for affection. This family may appear to live a peaceful, uneventful life. "We're just quiet people," Wallace said. And yet, they have been through some adventures — and a few close calls. Lisa, reared in Oklahoma, actually spent her teen years heading toward danger unaware. She played bass guitar and wrote songs for a band. "We played in bars and clubs," she said, "I had a recording contract, too." But she admitted that her life had been on the wrong track.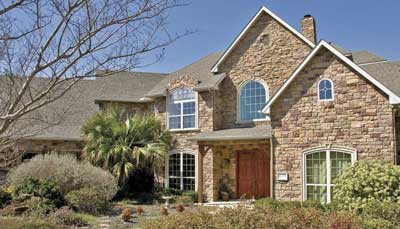 Then at age 18, she had a true spiritual conversion experience. Her priorities changed with her new life. "I became passionate about the Gospel, and felt called to serve people's spiritual needs." Realizing the recording label did not have her true interests at heart, Lisa approached their agent about giving up her contract. She told him, "You don't want my talent; you want my soul — and that belongs to Someone else." She came to North Texas and attended classes at Southwestern Assemblies of God College [now SAGU] and has been in the ministry ever since. Wallace has lived in the DFW Metroplex since his teens, after moving many times during his childhood.
He was an outstanding high school athlete who won a college swimming scholarship. After earning a BBA from The University of Texas at Arlington (UTA), he worked as an accountant for a few years, then resigned to pursue a second degree at SAGU.
However, a diploma is not what he came away with. "After I got there, I met Lisa — and once we married I dropped out." The couple lived in Cedar Hill, where Lisa worked for a time at a flower shop. Her ministry work paid little, but she said, "Wallace worked; I preached … it worked out." She has occasionally performed weddings for which she also
arranged the flowers; she still enjoys floral work.
The family expanded in 1989, when Trae was born. Then in 1994, the Swayzes bought a house in east DeSoto. They closed on the mortgage, and a few hours later, ran an errand to buy supplies for the new house. While they were out the house was destroyed by the tornado that damaged much of DeSoto and Lancaster.
"We were stuck in Walmart for a while — but at least we weren't in the house," Wallace said. Thankful at being kept safe, he and Lisa were also relieved to learn that their homeowner's insurance was in force — although the ink on their first premium check had barely dried. About four years ago when Lisa joined the staff at Trinity Cedar Hill, the family wanted to relocate in the same city. They did not buy their current home
until 2009.
Lisa claimed a small office off the entry for her own, while Wallace outfitted a
downstairs bedroom as his office. Trae has a first-floor suite. The spacious kitchen
features a work island, open shelving for cookbooks and a large dining table. The back
deck is furnished with a porch swing Lisa's father built. Upstairs, a media room and
sauna are hidden away at the west end of the house. The master bedroom's undraped
windows provide Wallace and Lisa with a spectacular view toward Grand Prairie. Lisa
pointed out the second-floor deck opening from the room. "We love to come up here
on the Fourth of July," she said. "We can watch the fireworks from eight to 10 cities."
As much as they enjoy their home and community, Wallace and Lisa have always
loved to travel. Lisa remembers praying early in their marriage for opportunities to do
so. When their budget was at its tightest, Wallace found a job with American Airlines.
Six months later, he received flight privileges. For their first flight, he and Lisa flew to
Washington, D.C. for a day. They ate hot dogs on the streets, hurried around to
visit the free museums and flew home, enjoying steak on the return flight. "We
only spent about $20 for the whole day," Wallace recalled. He even enjoys business
travel. He laughs about the week he spent working in London. "It was during
the 'mad cow' era. People told me I was crazy to go to England then." Another time,
his employer sent him all the way to Auckland, New Zealand, to attend a one-hour
customer support meeting. "It took four days to get there and back," he added.
If anyone ought to buy travel insurance, the Swayzes probably should.
On one family trip, Lisa was seriously injured in a skiing accident, requiring
nine surgeries and procedures over the next two months. Almost as bad was her
reaction to the medications used: she experienced debilitating sickness for the
next seven years. "But then all at once, overnight, I was miraculously healed
from that sickness," she said.
They have taken fun-filled vacations to San Diego and Walt Disney World often,
thanks to Wallace's travel privileges. The family's most memorable trip, though,
was a mission venture to Nepal. Trae was around 11 when they visited the povertystricken
Third World country. "That was a very eye-opening experience for me,"
he said, "as an only child who thought the world revolved around me."
Wallace described riding a bus over Nepal's narrow, winding mountain roads, looking
down and seeing wrecked vehicles at the bottom of cliffs. Lisa put in, "On one
of those mountain turns I was sitting over the back right wheel, and I could
feel it was hanging out away from the pavement." Wallace smiled at her. "We
enjoy challenges and adventure," he said.
The Swayzes do not seek safety in stone walls or in avoiding risks. They
have another room, which illustrates the source of their confidence. A
stairwell going up from the second-floor mezzanine leads to a narrow back room
with large windows. A Bible rests on a shelf. "We use this," Lisa quietly stated,
"as a prayer room."
Written by Janice C. Johnson