Larry and Nancy Carson looked over their new land. Larry had recently been hired as the Palmer Independent School District Superintendent. So, after 30 years in Midlothian, the couple now needed to move to Palmer. Nancy had found this property on a quiet road that meandered past wide-spaced houses. There was no house here, though — just seven acres of weeds and brush sloping
up from the wooded creek near the road. This was going to be a lot of work, but it offered everything they were looking for — a hill, a creek and some trees. They could already imagine a two-story house there on the hilltop.
Included would be space for their son Brett, then in law school, to come visit. And, of course, for the family he would one day have. "Brett is Larry's and my crowning achievement," Nancy
said. Larry had pointed out a flat spot behind where the house would stand. He wanted to put a pond there and stock it with bass, "for the grandbabies," he said.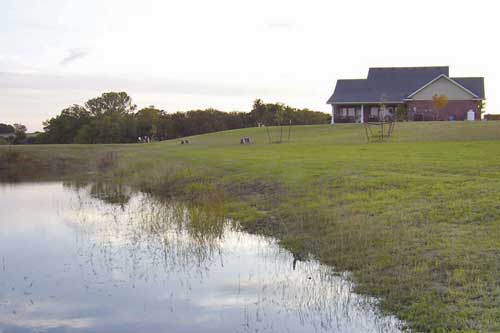 Nancy designed the layout of the home with help from an architect who drew up the plans. A talented artist, she had taught both architectural drafting and art in Midlothian. "I knew just enough to be dangerous," she said. But she managed an open design, which, from the kitchen counter, allows a 270-degree view through the dining room, kitchen, nook and den windows. Upstairs she included two extra bedrooms, an office and a loft. Once they closed on the land and had the house plans in the works, the Carsons bought a farm tractor, which they nicknamed "Ol' Tex", and rented a Bobcat. They plunged into the hard work of preparing the lot. Some of their future neighbors met petite, energetic Nancy as she tramped around wearing shorts and heavy boots, swinging an axe to cut brush. She and Larry paved a long, winding driveway and laid the water and electric lines themselves.
Finally, in May 2004, they moved into the new house. They did not need to buy much furniture, having collected antiques since their newlywed days. They had started out as budget-conscious young teachers. "We learned that the cheapest way to get stuff was from auctions," Nancy explained, "and it was real wood." Larry refinished many of the pieces. "He got to be pretty good at it," Nancy said. They collected mostly "barley twist" furniture, with legs carved in a helix design. Nancy repeated the twist in lamps and accessories, the staircase balusters and even some of the kitchen woodwork. The dark wood furniture stands out against the home's low-key, light-colored interior.
While Larry divided his time between office hours and working on the land, Nancy shouldered many of the chores.
She learned when to mow the abundant bluebonnets and how close to the house she should let them grow. "Since you can't mow bluebonnets until June, if they come up too close to the house you get high weeds in the yard. And then you get armadillos!" She loves most of the animals roaming the area, but armadillos root in the ground and leave dangerous holes. The Carsons had been in their new home for barely a year when Larry became ill, then died within just a few weeks. All the plans and dreams he and Nancy had shared seemed lost. There she was on her own, battling weeds, armadillos and loneliness. Struggling to adjust, Nancy realized, "The grass still grows, and somebody's got to mow it. So that's what I do," she said.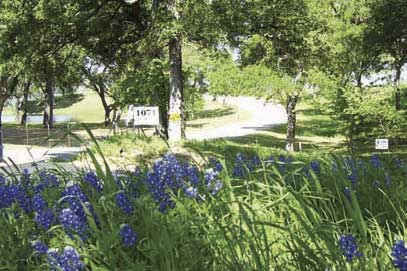 The outdoor work, which had started as a project and later became part of her routine, soon began to bring her comfort
and healing. "You start all over," she said. "Being out here … I've been doing everything myself. By God's grace that's how I've made it. He's kept me busy; it's been very physical." Nancy has drawn comfort from other things besides hard work. She continues a long-standing tradition of creating original Christmas card designs, each drawing recalling a family memory. Their Midlothian colleagues whom, she said, "just cannot say enough about Larry," have offered support. She joined the neighborhood garden club and book club, and has gained part interest in some of the "community dogs" that live at large, welcomed and fed everywhere. The sky is endless from Nancy's hilltop; she would watch storms rolling in from the distance, or sunsets blazing and then softening into dusk. Birds, from sparrows to blue herons, added their companionship unaware.
Over time, her natural sparkle and energy began to return. Then in 2006, she gained a lovely daughter when Brett and his fiancée, Kim, were married. Nancy's life grew full again. Her home is now filled with personal treasures, mostly photographs and family mementos, such as the antique clocks that belonged to her father. Nancy finds satisfaction in her favorite "accessories" — old-fashioned hand tools tucked in here and there. To her designer's eye, the tools' craftsmanship elevates their simple usefulness to art.
She surrounds herself with memories outdoors, too. For instance, on fishing trips with Larry, Nancy used to search for and collect heart-shaped rocks. She explained, "I'd get tired of fishing before he did." She has used that collection to accent the flower bed under her kitchen window. Even "Ol' Tex" stands proudly on the lawn, retired from homesteading duties and now designated "yard art."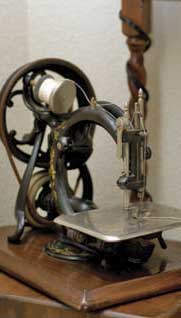 Asked what she likes best about her home, Nancy said, "Oh — the views! It's really not so much the house as the
surroundings." Fond of the scenery beyond her hill, creek and trees, she often keeps her undraped plantation blinds open in the daytime so as not to block the view
Two years ago, Nancy had the pond dug — the one Larry had envisioned. She laughed as she remembered indignant creatures disturbed by the earth-moving equipment. "I looked out and saw a mama skunk walking away from the pond
area, with six babies lined up behind her.
All seven of their tails were standing straight up in the air!" Armed with advice from the County Extension Office, she
began preparing the pond for fish. "I learned there's a certain sequence of plants and animals you have to introduce," she said. She planted a few pecan trees beside the pond, to provide shade in the future.
And then, last year, Brett and Kim had their first son, Crew Dale Carson. Brett, Kim and little Crew have brought Nancy much joy and fulfillment. She is now dreaming of the day when Crew will be big enough so he and his daddy can go fishing in Larry's pond.
— Written by Janice C. Johnson