An old-fashioned railroad station brings to mind vividly human scenes: tearful farewells, joyous reunions, exciting new adventures. David and Paula Hudgins captured that romantic atmosphere when they designed their extraordinary redbrick home to resemble a vintage train station. Outside, carefully authentic details include regulation five-foot eaves all around and a pair of decorative "freight doors" — and then you step inside.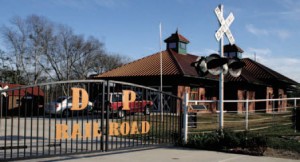 Antique double doors at the front lead into a spacious living
area, or is it a railway passenger lounge and about 80 years back
in time? A stone fountain stands inside near the entrance, just
as in a real train station. Dark brown chair rails and art-deco
woodwork and fixtures stand out against off-white walls.
The polished brown concrete floor is left open and the furniture,
mostly small, is tucked into corners. Two rocking chairs draw
together in a window alcove like elderly cousins settling in for
a chat. Across the room, an elaborate wooden birdcage stands
beside a Queen Anne settee.
A placard above the back door
reads "To The Trains." This whimsical
touch of realism becomes even more
convincing as you look outside: a
Pullman railroad car, the kind with
private sleeping compartments, sits just
beyond the back porch.
The Hudgins' adventure and romance
began long before they built their home
almost three years ago. "During my
teen years in Gilmer, I worked summers
cleaning ditches for the fire department,"
David remembered. "Over time, both
my responsibilities and interest in
firefighting grew." After high school, he
began studying business administration
at Tyler Junior College but soon found
that his heart was in firefighting rather
than business. In 1968, hearing of
some openings in the Houston Fire
Department, he applied, got hired and
left college behind. He now serves as
Waxahachie's fire chief.
Paula holds advanced degrees in
nursing and works as a psychiatric
nurse practitioner. In 1973, she was a
busy undergraduate at Houston Baptist
University where she worked weekends
as an emergency room receptionist. One
December day, a paramedic who had
brought in a patient told her, "I know the
perfect guy for you …" and set up a blind
date for her and David.
What is a first date without some
little disaster? Paula remembered, "We
went to a steak house, on Westheimer in
Houston, and had a very nice meal. Now,
I don't wear my shoes very often, so, here
I was on a blind date, and I had taken
my shoes off and kicked them under the
table. Then after the meal I had to get
under the table to find my shoes." She
may have felt flustered, but not David.
"He still took me out on a second date!"
Paula said. David's persistence paid off.
He and Paula married before her senior
year in college almost 35 years ago
— their union now proudly evident in
the "D&P Railroad" sign on their gate.
David shows the same patience and
persistence in developing the "D&P
Railroad's" period decor as he did when
courting Paula or choosing his career.
Complementing carefully-chosen historic
furniture, the many architectural features
in the home look like they were custom
crafted for it. But David has collected
them over a period of decades, rescuing
turn-of-the-century doors from one
building demolition and wooden brackets
or leaded glass windows from another.
Everything that is not actually old is
chosen for its authentic appearance, from
forest green, damask carpet to the clawfoot
tub hiding modern whirlpool jets.
David's persistence is even more
evident in the Pullman car outside. He
has spent years restoring the car to the
glamour it originally enjoyed as a private
car. He said, "It was built for the Union
Pacific Railroad by the Pullman Company. The railroad bought
it for their superintendent in the Omaha headquarters. It was
the 'corporate jet' of its day — his car to travel to different parts
of the country with his crew to take care of business." Besides
sleeping berths, a bath with shower, a parlor and office space
for the superintendent and his assistant, the car contains its own
kitchen and dining room. "The wood-burning stove still works,"
David noted.
Bit by bit, he has refinished paneling, polished
brass, overhauled the plumbing and even bought a set of replica
Union Pacific china. He is also adding one modern touch: airconditioning.
This long-term "hobby" will double as a guest
house someday.
The extra space will come in handy. "There are no tables in
the house – just card tables we can set up if we want," David
explained. "Our thought was, when we get the dining room [in
the Pullman] fixed up, if we want to entertain more formally, it
will be out there. That's what I'm looking forward to, is when
I've gotten to that point."
Paula does not miss having a dining table. "I like my little
kitchen. Everything is right there within reach. I like the stove
with the serving [bar] around it." She saves steps and can enjoy
her company while cooking. "The house is kind of small,"
David said, "but it's exactly what we wanted. We didn't want a
big place."
Paula counted off, "One bedroom, two
baths, a study, the kitchen." Their builder
had suggested more rooms, but they
would not hear of it. Paula elaborated. "I
hate housework; here, I don't have a lot
of housework."
David likes the great room best. The
art depicts Civil War scenes (his other
hobby), which adds to the historic feel.
A shaft in the high ceiling leads up to a
skylight-like tower with different colored
windows on all four sides. David loves to
relax in the living area and watch the light
change with the sun's movement.
Paula is not the railroad buff David
is, but both enjoy rail travel. "When our
children were growing up, we went on
vacation on the Amtrak train," David
said. "That was as much of the vacation
as wherever we were going." Their
tradition is to buy a unique memento of
David said, "Whether we're going to
battlegrounds or looking at old homes or
plantations, it's not just to be different,
but it's something we really like, and
we want to capture it if we can." Paula
added, "Both of us have real serious jobs,
and it's good to get away and have fun.
He doesn't bring his job home; I don't
bring my job home. We just relax and take
it easy together." This house they love to
be in is the perfect place for that.
Written by Janice C. Johnson
To view more photos related to this story, download the online version.