Fall will soon be here again and it will be time to separate your irises if you did not get around to it last year. Irises and Shasta daisies are two of my favorite bloomers, and they love to be cut up and given more room.
They bloom much better if they have some space to "stretch their roots." Irises are perfect to dig and replant or share in the fall, and Shasta daisies are good to work with in the spring.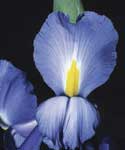 If you are really organized, you may have labeled the colors of each of your irises last spring when they were blooming — sorry, not me!
One of the keys to having great blooms year after year is having the rhizome (the brown thing that the roots grow from) on top of the ground. If you plant too deep and cover it up, the plant will not bloom as well.
My iris idol, David Smith of Waxahachie, tells me he checks his irises four times a year to make sure no leaves or anything else is on his rhizomes. If his blooms are any example, his technique must work, and I am going out right now to pull all those leaves away! It goes without saying there should be no mulch anywhere around irises. The mulch will hold the moisture, causing the rhizome to rot — something we sure do not want to happen.
Irises can grow literally in spite of some of us, but they do benefit from a little balanced fertilizer in the fall and early in the spring. I use Halloween and Valentine's Day as my guideposts for iris fertilizing. Irises are great plants to pass along to others; let's all have one or two in our yards
— Written by Nancy Fenton