Every now and then, 13-year-old Tye Gray takes a couple of friends out to the bike trails behind Taylor Elementary for a little digging. Shovels and dirt flying, Tye's team builds the jumps for their bicycle motocross (BMX) fun. All summer long, Tye and 30-40 of his freestyling friends have ridden the trails in Burleson, having a good time and training for races in other states and in the nearby cities of Fort Worth and DeSoto.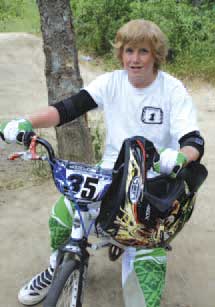 In fact, Tye has been practicing for the state championship, to be held at Metroplex BMX in DeSoto the first weekend of this month. Tye need only win 16 more races before turning 15 years old to qualify for the right to ride professionally and, hopefully, compete in the Olympics. Each ride pushes him forward. "When you come back from the trails, you're just pumped and want to do more stuff, like jump bigger stuff and go different places and try other things," Tye said. "On the trails, you do a lot of jumping!"
How high a BMX rider jumps depends on the size of the mounded dirt; but whether the rider gets off the ground is a matter of skill. "To make sure you don't break your leg or ankle, you got to get enough speed and you got to pull up," said Tye. "Landing is the easy part. Taking off is the tough part." Without enough speed, or with too much speed, an inexperienced person could crash and burn, without getting off the ground.
One day Tye hopes to follow in the tracks of Jason Rogers, a professional from Mesquite who is well-known for taking time from his own race schedule to give young riders pointers on going faster, staying the course, and winning the race. Tye, who started riding a bicycle without training wheels at the age of 2 and has been trekking to the trails, about a mile from his home, ever since he was 4, is grateful for all the encouragement he has gotten over the years. "The first time I succeeded in getting up over a jump, I was in like second grade. These older kids were down there and saying to jump this one jump, and I did it and made it. It just started from there," remembered Tye, who spends an average of eight hours per day trail riding.
Tye can often be found in his folks' garage, maintaining his two bicycles. "I prefer a Haro for trail riding, because they're built to hold up and are a good starting bike for people. For racing, I ride a Crupi," he said. After learning from his father to do his own mechanical work, the neighborhood children started coming to Tye. "If someone needs something done, I'll go to their house
and help them out."
While he works, Tye plans his next ride. "Racing other kids that are faster than me," explained Tye, "makes me want to try harder. You gotta practice and get better so you can beat the other
kids in your age group. "In a BMX race, up to eight competitors will start at a gate. The gate will drop; you'll all take off and race around the track, and you have to beat several people. When you go through a turn, you'll end up bumping somebody and take other people out, and you might fall. You gotta try to go around each other," Tye said. "There are judges watching to make sure you do all this legally. If you do something like elbow another rider, you'll be disqualified, and I don't want to be disqualified, so you do everything right. Sometimes, people are not thinking and mow somebody over, 'cause everyone's mad at each other and everything. I try to beat 'em on the track instead of racing dirty."
During practice trail rides, Tye thinks about what kind of tricks he will throw over the jumps. "You are in the air, and do a one-hander or something, or take both feet off of the pedals and then put 'em back on before you land," said Tye, who figures he is a year or two away from doing flips over the jumps. "I haven't tried it yet, but there's a skate park in Plano with a foam pit where you can try stuff and land softly."
Before nationals, this young athlete trains with a pro rider and builds his endurance through other sports, like weightlifting, wakeboarding and waterskiing. "You have to be in shape for the sport that you do. In BMX, you are pedaling all the time," Tye said. "Once you stop pedaling your legs, mainly the top part of your thighs, are all burning and everything."
Because he is a natural on the bike, his parents, Greg and Dianna, keep cheering Tye on. They plan ahead for family trips to each state qualifier and each national event. They also pitch in up to $10,000 per year to fund the equipment, entry fees and travel. "When they buy me new stuff, I work around the house to help out," said Tye, whose eighth-grade teachers at Hughes Middle School will find that Tye refuses to let his schoolwork suffer even on race weekends. Taking his homework with him, Tye keeps on pedaling
— Written by Melissa Collins