Linda Moxley has a keen eye for capturing beauty within the viewfinder of her camera. Whether it be landscapes, buildings, alleyways, windows or an array of detailed butterflies, Linda is able to see what so many others might miss along life's way. "I inherited my mom's cameras and her carousels of pictures," Linda remembered. "She was my inspiration."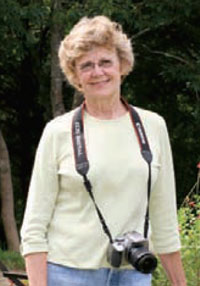 While many well-known photographers spend years in the classroom learning the art form of snapping the perfect picture, Linda has spent the biggest part of her adult life learning from simply doing. She has created an art gallery of sorts upon the walls of her own home, and the placement of her artwork is as unique as the person who took the photographs.
In fact, the way things are showcased could also be considered a rare art form in and of itself. "You can hang a picture anywhere," she smiled. "There is
definitely nothing traditional about the way I hang and display my artwork."
No matter where visitors look, Linda has managed to strategically hang framed photos at every eye level imaginable,
thus allowing beauty to be seen no matter where one looks. Some of her snapshots stand alone, while several others are displayed in like groupings. On first inspection, single pictures of eggs and vegetables in Linda's kitchen look more like postcards than simple photographs. The colors are deep and rich, giving the illusion that the produce is real and ripe for the picking, instead of captured in timeless beauty on photo paper. There are also photos inlaid on an antique, rustic framed serving tray. "These pictures remind me of my trips to France," she said, explaining that her two most favorite places to snap photos are during her many trips to France and in her very own 40-acre backyard. "I love taking pictures in France. I also love windows, nature and butterflies," she added. As the seasons change, so do the pictures in many of her frames. Linda's farm animals are regally displayed on an oversized easel. She snapped a unique Christmas photograph incorporating Christmas hats and long, red Christmas stockings. Laughing, she said the animals actually cooperated, thus making this particular shoot even more fun than she imagined it could be. The fireplace screen is the backdrop for two sunflower photos.
"One was taken in France," Linda said, "and the other one was taken right here at home." Although both pictures are of the same type of flower, Linda's eye captured different lighting in each photograph, allowing them to be totally different in color, clarity and overall presentation.
Along one wall, Linda displayed two separate groupings that include five small, framed prints each. These, too, were taken on her most recent trip overseas. "These were the only photos I had left," she said, mentioning that her pocketbook had been stolen. "Luckily, I'd selected these pictures before someone grabbed my purse." Every photograph is enveloped in a frame that complements the photo, and no two frames are exactly alike.
"Almost everything is framed in bargain basement frames I've found at Corners [Art Gallery & Custom] in downtown Waxahachie," she admitted. For her, finding the frames that best suit her photographs is half the fun. Linda even has artwork displayed on an antique carrying case that serves as a night stand in her guest room where visitors and guests can easily see it as they enter the room. She used a gate to a chain link fence as a backdrop for several close up butterfly photos, while shots of yellow canaries in a Paris bird market find their home in an antique birdcage.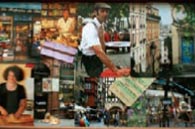 Taking photographs of the surrounding beauty would be enough for most photographers, but not for Linda. She not only lives among the art form she chose to pursue, she also shares it with others in the form of greeting cards for all occasions. "I started making cards at Christmas when I was a little girl," she explained.
"They grew over the years to include my photographs." Personalized, one-of-a kind greeting and note cards are no longer reserved for family. Linda, also known as "Mox" to her close friends, has since started making them for those same close friends. When they receive a Saxon Creek Farm Original, they know the care and time that was spent to send it to them.
"Thinking outside the box" allowed Linda to create some wonderful things using only her camera and her vivid imagination. She mimicked a stained glass window in Bethel United Methodist Church using only two identical snapshots, two pieces of clear glass and a border of lead. One abstract photo she created was too large for its frame when complete, so she hung the photo outside the frame. "This particular arrangement earned first place honors at a local art show," she added.
Whether it be an antique hymnal board, a barren landscape of the Santa Fe Mountains or an empty frame that longs for its own photograph, Linda is able to add her
own brand of beauty using what she sees through the viewfinder
— Written by Sandra McIntosh.